The Ambassdor of God
»
The Ambassador of God
This talk was given October 30, 1983, at Sant Bani Ashram, Village 16 PS, Rajasthsn, India.
»
Simran Cuts the Simran
Question and answer session was given on April 3,1985, at Sant Bani Ashram, Village 16 PS, Rajasthan.
»
If You Can Carry your Own
Question and answer talk was given at the S.K.A Retreat, near Sampla, India, on March 21,1997.If You Can Carry your Own
Saint ji given by Satsang
Saint ji given by Message
»
The Choice is Yours
A message on the birthday of Hazur Baba Sawan Singh Ji by Maharaj Kirpal Singh Ji.
Saint ji given by Message
The Opportunities to Sing His Praises & Meditate more and have love and Faith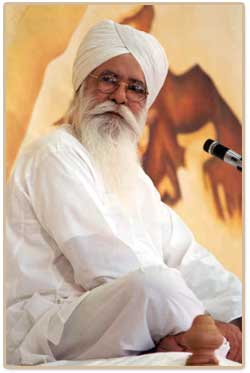 This is a portion of a response to a letter, in which it was suggested to postpone the Tour for a year, out of concern for Sant Ji's health.
......I appreciate the concern the dear ones have for my health. I would like all the dear ones to know that this poor soul has the support of Master Kirpal and this body is functioning only on His support of Master Kirpal and this body is functioning only on His support. My beloved Master has given me this order that I do the Satsang as long as I can move in the bed. We are very fortunate ones that He has chosen us for His devotion and we should spend every single breath in His remembrance. There is a saying in the Punjabi language: "May I breathe my last breath on the bed of my beloved." The dear ones should not worry, and wholeheartedly prepare for my coming on tour. Even though the Master knows everything, He is not allowed to make prophecies. There is no room in Sant Mat for prophecy. I am sure that Master Kirpal will shower His grace and will allow us many opportunities to be together in His remembrance. Instead of worrying, the dear ones should meditate more, and have love and faith in Master. I send my love and best wishes to all the dear ones.
Ajaib Singh
I thank God Almighty Sawan and Kirpal for giving us this opportunity to sing Their glory. It is only due to Their grace that we are sitting here singing Their praises.
Regarding the bhajans – I have always said that these are the expressions, these are the words full of yearning which have come out from the hearts of the devoted disciples. If we were to tell the Master to His face all the good qualities He has, or if we were to praise Him, He would not listen to us, He would not like that. If we tell Him, "You are God Almighty, You are the all-owner, You are capable of doing everything," He would not allow us to do that because all this is the worldly name and fame. He does not like to hear that. But when we sing Their writings, when we sing the bhajans written by Them, then we can make all kinds of prayers to Him, we can say whatever we want to Him.
He listens to our prayers and He answers them. So this is a very golden opportunity for the disciples to express what they have in their heart for the Master and also to receive the grace of the Master.
Guru Arjan Dev Ji Maharaj told His Master, Guru Ramdas, "Even if I were to call you 'Sultan, the Emperor of Emperors,' still I would not be praising you enough."
Dear ones, when the Shabd Guru gets manifested within us, when we go within after crossing the stars, moon and sun, and manifest Him within us, over there our tongue stops working. There is nothing to praise over there because we cannot say anything.
So it is all the grace of Beloved Master Kirpal that we have the opportunities to sing His praises, to sing the bhajans.
A Bhajan Talk, given March 12 ,1995
at the S.K.A Retreat, Sampla, India