A brief life Sketch of Maharaj Sawan Singh Ji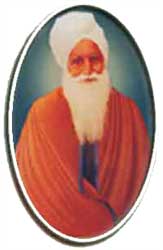 Hazur Baba Sawan Singh Ji was born 27 July, 1858 in village Jatala, Dist. Ludhiana to Sub. Maj. Kabul Singh and Mata Jiwani. Had 3 children by Mata Kishan Kaur Ji. He passed Engineering from Thompson College, Roorkee and joined the Military Engineering Service. His bearing was majestic and attractive. He studied scriptures of various religions. He visited Baba Kahan of Peshawar, who told him his Master will seek him on his own. Stationed at Murree, he met Baba Jaimal Singh, who had come for him and was initiated by him.
He retired in 1911 and set up Dera Baba Jaimal Singh at Beas whose foundations had been laid by his Master in 1891, and built houses, bungalows and a Satsang Hall. He sheltered victims of the communal partition holocaust. His following included Hindus, Muslims, Sikhs, Christians, and for the first time, thousands from abroad in USA, UK, Switzerland and Germany as well. True to his name, Sawan- The Season of Rain, he showered his Master's wealth freely.
www.ajaibbani.org is the official website created by Sant Bani Ashram 16 PS Rajasthan India concerning the information about various Satsang and Meditation programmes & events organized by Satsangi's of Sant Ajaib Singh ji. Sant Ajaib Singh ji's Love for His Guru Sant Kirpal Singh & Maharaj Sawan Singh is reflected in His songs ( Bhajans) & satsang discourses which is being compiled in this website for the benefit of His sangat far & wide. Any body willing to contribute any related information is welcome to do so.
Saint ji's Satsang Video

View Online Satsang Video
Saint ji's Satsang Audio

Listien Bhajn & satsang
audio
Photo Gallery of Sants

View & download sant photo's
Satsang Books/ Magazine

Read & download monthly magazine