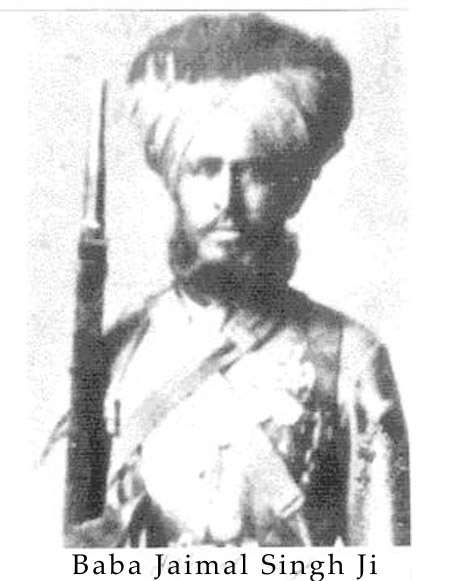 Baba Jaimal Singh ji was born in village Lath Ghuman near Batala, Distt. Gurdaspur, Punjab, India, in July, 1839. His father was Sardar Jodh Singh ji and mother was Sardarni Daya Kaur ji. She was a devotee of Bhakt Naamdev ji, and Baba ji started visiting him at the age of four.
At the age of five he started his education with Baba Khem Singh ji, a Vedanti sage. Within two years he became a good reader of Guru Granth Sahib and read Dasam Granth also.
At the age of 12-13 years he again started studying Guru Granth Sahib at home and came to the realization that this holy book rejects Praanayaam, Vairagya, Hathyog, Jap-tap, places of pilgrimage, fasting and rituals. He reached the conclusion that a perfect Master, a Satguru who practices 'Anhad Shabad' is needed to realize God. He started the search for a Perfect Master per the description in Guru Granth Sahib. In Swami ji of Agra, he found the Perfect Master, and was initiated by him 1856.
Swami ji ordered Baba Jaimal Singh ji to start initiating devotees in Punjab, in Oct 1877. Swami ji advised him not to interfere with the religious choice of a devotee. Then Swami ji took off his own turban and handed it over to Baba ji and permitted him to depart. This was their last meeting.
Baba Jaimal Singh ji retired from the Army on June 7, 1889 and started living in his village, and later built a hut in village Bal Saran at the bank of river Beas, Punjab, India, and started living there. Slowly number of devotees increased and one of his devotees donated three beeghas of land for Dera.
Once he went to Mari Pahar, a city in H.P., where he initiated Babu Sawan Singh ji the second Satguru of dera Beas.
Baba Jaimal Singh ji spent his whole life for in the service of Dera Beas and its devotees. He left his mortal body on Dec 29, 1903.