| | | | | | |
| --- | --- | --- | --- | --- | --- |
| S.No. | Date | Programme | Venue | Host | Platform |
| 1. | Daily | Satsang & Meditation | Online | Gurmel Singh | ZOOM |
| 2. | 29th September to 1st October 2023 | Satsang & Meditation | Online / 16 PS Ashram, India | Gurmel Singh | ZOOM |
| 3. | 13th to 15th October 2023 | Satsang & Meditation | Online / Pehowa, Haryana | Gurmel Singh | ZOOM |
| 4. | 3rd to 5th November 2023 | Satsang & Meditation | Online / 16 PS Ashram, India | Gurmel Singh | ZOOM |
| 5. | 1st to 3rd December 2023 | Satsang & Meditation | Online / 16 PS Ashram, India | Gurmel Singh | ZOOM |
| 6. | 3rd to 7th January 2024 | Satsang & Meditation | Online / Mumbai, Maharashtra | Gurmel Singh | ZOOM |
| 7. | 31st January to 4th February 2024 | Satsang & Meditation | Online / 16 PS Ashram, India | Gurmel Singh | ZOOM |
| 8. | 1st to 3rd March 2024 | Satsang & Meditation | Online / 16 PS Ashram, India | Gurmel Singh | ZOOM |
| 9. | 15th to 17th March 2024 | Satsang & Meditation | Online / Pathankot, Punjab | Gurmel Singh | ZOOM |
| 10. | 5th to 7th April 2024 | Satsang & Meditation | Online / 16 PS Ashram, India | Gurmel Singh | ZOOM |
Ajaib Singh Ji Maharaj - The Perfect Master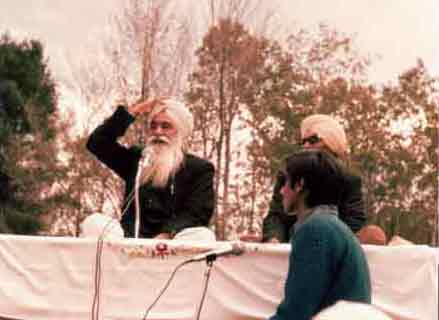 Ajaib Singh Ji Maharaj - the Perfect Master(1926-1997), known to His disciples as Sant Ji, was born September 11, 1926 in Maina, District Bhatinda, Punjab, India. Sant Ajaib Singh was a Sant of Surat Shabda Yoga. His Master was Sant Kirpal Singh Ji Maharaj of Delhi, is said to have come from a lineage of masters descending from Kabir. Ajaib Singh gave initiation into the Light and Sound Principles. He left the body on His own will on July 6, 1997.
www.ajaibbani.org is the official website created by Sant Bani Ashram 16 PS Rajasthan India concerning the information about various Satsang and Meditation programmes & events organized by Satsangi's of Sant Ajaib Singh ji. Sant Ajaib Singh ji's Love for His Guru Sant Kirpal Singh & Maharaj Sawan Singh is reflected in His songs ( Bhajans) & satsang discourses which is being compiled in this website for the benefit of His sangat far & wide. Any body willing to contribute any related information is welcome to do so.
Every year starting from July to April monthly Satsang programmes are organized as was being done during Sant ji's physical presence amongst us. It is our desire to maintain and continue in the same path and tradition as far as possible or until we are guided by the Sant ji's next form. The monthly Satsang programme at Sant Bani Ashram 16 PS Rajasthan is held on the last Sunday of the month with the exception of Sant Ajaib Singh ji's birthday , Maharaj Kirpal Singh ji's birthday and Maharaj Sawan Singh ji's Anniversary celebrations which are held on 11th Sep, 6th Feb. and 2nd April respectively. In addition to the above, a 3-Day Satsang and Meditation programme is held in New Delhi during the month of May, and a similar 5-Day programme in Mumbai during January and a 3-Day programme in Ahmedabad in July every year. Anybody desirous of taking advantage from the above mentioned programmes is welcome to do so.